Have you ever heard someone say, 'If only life came with a set of instructions'? Success coach, Lisa Stephenson has – hundreds of times. Almost every client utters this at some point in some form. Read Me First is the book she now gives them.
It is also the book she wishes someone had given her when she found herself suddenly single with three young children and needing a new plan. "Life is awesome, then it's hard, then it's awesome again," says Lisa. "When you get to a difficult stage – in your personal or professional life – then this book is essential reading before you set out to write the next chapter in the story of YOU."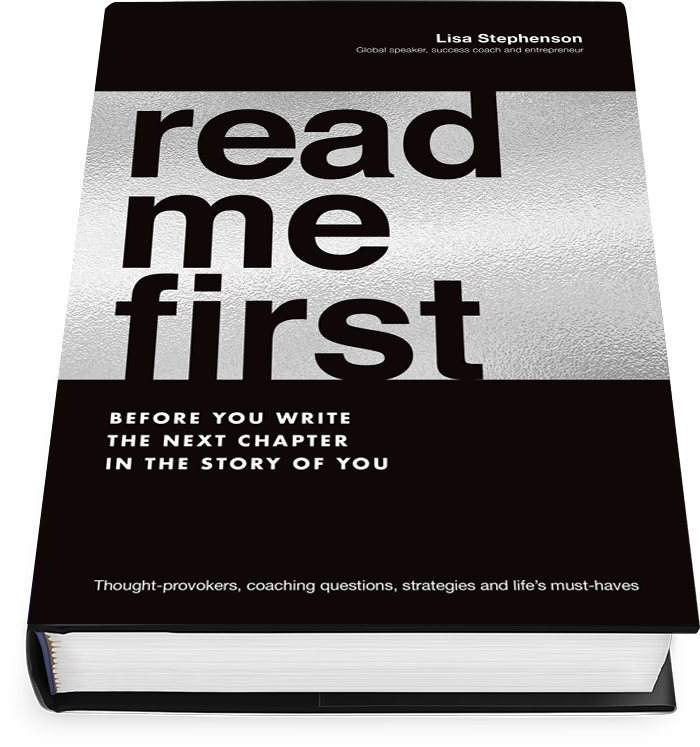 Read Me First will challenge your thinking then provide a structured way to reflect and take action. You'll find quotes for inspiration and questions to ask yourself.
Most importantly this is about doing the work on you – do that, and you will grow, you will change, and you will succeed. When you change, so does the world around you. That is Lisa's promise.
This book alone will NOT change your life, but YOU can, especially after reading this first.
Lisa Stephenson is a global speaker, success coach, facilitator, MC, author and CEO of a global, Australian-based consulting firm.
Over her career, she has developed and managed a number of high-profile programs for clients that have propelled individual performance, while also transforming corporate culture.
She has inspired hundreds of people to write their own story – to not let anyone else do it for them. Working with some of the biggest global names, CEOs, elite athletes and entrepreneurs has seen Lisa and her team travel all over from Asia to America.
As a coach, she looks beyond the obvious, by asking the right questions (and the hard questions) at the right time. She makes the connections, challenges beliefs and turns ideas into doable action.
In this book, Lisa will challenge and inspire you, all the while holding you accountable for going after what you need and want. She is known for her targeted approach, deep care for her clients, confronting questions and for laughing at her own jokes. Be prepared!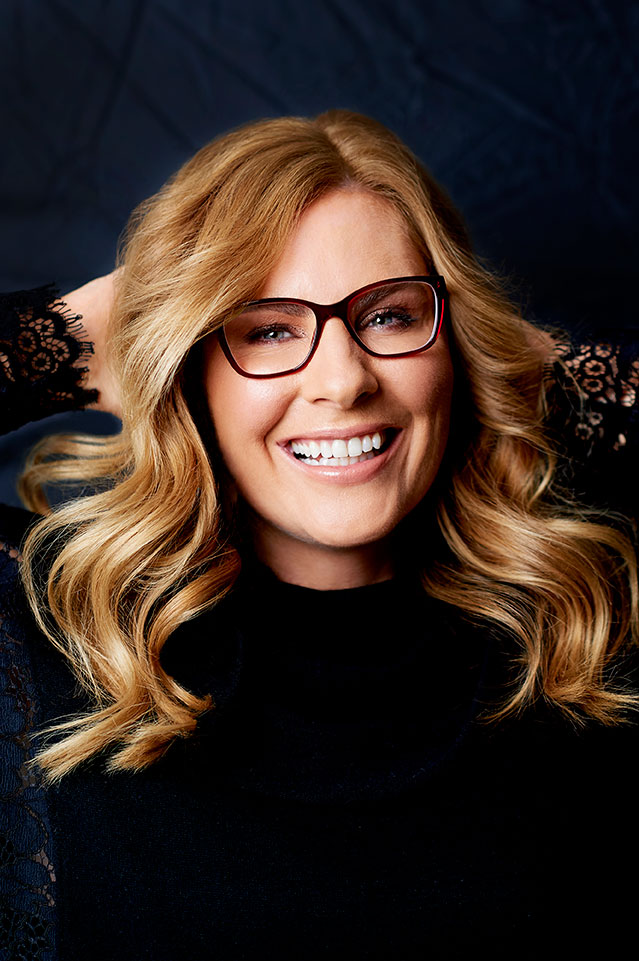 My promise to you
This book will challenge your thinking and then provide a structured way to reflect and take action. You'll find quotes to inspire you and questions to ask yourself. I know that if you do the work on you, you will grow, you will change, and you will succeed. When you change, so does the world around you. That is my promise.
Imagine what could happen if you:
Praise for Lisa Stephenson and Read Me First
Reading this book took me on the journey again. It brought back all the memories and the feelings of uncertainty that I had when transitioning out from playing AFL football. But, just like in my many catch-ups with Lisa, the belief, clarity and self-confidence came back and the future wasn't daunting anymore. The process you go on, and the questions that Lisa holds you accountable to, can be raw and confronting, although they are absolutely required and completely necessary to keep moving forward. Lisa's ability to understand what is important to you and what makes you happy is unique, as is her sense of humour that shines through in this book. Lisa asks the right questions so that you can define what success really means. This book will challenge everything you think you know about yourself. Take the risk, own the process and do the work on yourself. That's what Lisa told me to do and so I did. Enjoy the read and the rewards!
Lisa Stephenson has that unique blend of warmth, empathy, wit and smarts that make her an invaluable leader, coach and teacher. Her life's work is to share her wisdom and help others to live and lead better, and in this book she nails the brief.
Lisa Stephenson is undoubtedly the Queen of Personal Branding. Her capacity to distil a lifetime of personal experience and two decades of coaching wisdom (and a huge dose of in-your-face humour) has enabled her to tap into the holy grail of human development. When she asks 'Who Am I ...?' Lisa gently grabs your hand and guides you through the most enlightening, confronting and sometimes scary labyrinth towards the ultimate version of yourself. Her expertise in getting you to ask yourself the right questions at the right time is unparalleled, and this is her (not so) secret weapon. In this book, Lisa generously shares with you her usually behind-closed-doors methodology and lifts the curtain on a range of insights and practical tools you can use today. My advice to you, dear reader, is to take this book and devour it! Listen to her stories, hear her advice and, most importantly, act on her suggestions. This. Stuff. Works.
Lisa is a brilliant combination of integrity, wisdom, authenticity and humour. In Read Me First, she fuses together decades of coaching and mentoring experience with gritty real-life substance. Lisa is an unstoppable force in supporting people to transform their lives.
I loved reading this! A straight-up, real and raw manual to living life the way we're meant to – truly awake to our purpose.
Over a career, you run across maybe a handful of truly exceptional practitioners, individuals whose abilities deliver something unique in their field. Lisa is one of those individuals. Her accessible and supportive style underpin what is a deeply challenging approach to personal and professional growth… An approach that sets the standard when it comes to building strong and independent leaders.
I am one of those people who has been lucky enough to meet Lisa through the amazing work she does and I now call her a friend. Over the last few years I have seen the impact of both Lisa's individual coaching and group coaching sessions. I've also seen her in action presenting to large groups as a keynote speaker. In each interaction, her warmth, humour and genuine commitment to support each and every person to be the very best they can be shines through. Reading this book is just like sitting with her and receiving your own personal coaching session. Read Me First asks the same insightful questions, has the same outrageous sense of fun and the very real sense of being lovingly supported through your discomfort. Her own personal story gives great insight into what it takes to create success and happiness on a personal and professional level. If you can't get in a room with her, this book is the next best thing. It really is just so perfectly Lisa, hugs and all. I am a fan and know lots of others who are too.
It is a gift to be able to explore, explain and navigate the potentially deep, complicated and laborious subject matter that is 'self-management' on a physical, mental, emotional, behavioural and sociological level without confusing (or boring) the crap out of the reader. I call it 'Lisa-fication' (noun) or to 'Lisa-fy' (verb). Call it whatever you like but Lisa Stephenson has produced a book that not only shares great insights, advice and strategies for life but is also a body of work that's funny, relatable, relevant and powerful.
The first time you meet Lisa is like meeting a very old friend. Her warmth and care create a safe and nurturing environment. Lisa uses that safe place to really challenge you, to ask questions that provoke and help you to dig into your values and what really matters. The work is hard, really hard, yet the rewards are life-changing. Whether you are an established entrepreneur, inspiring leader, struggling parent or just ready for a career change, Read Me First will both structure your thinking and honour your future plans. What I admire about Lisa is her resilience, her fundamental belief and investment in the power of relationships and her unwavering commitment to her family. Lisa is someone you want in your circle. The power of her positivity and the integrity with which she lives her life is inspiring. I will be forever grateful to have met Lisa and I look forward to watching this next chapter in her life. Read Me First gives everyone access to her coaching questions, insightful thoughts and the strategies I've seen her use with hundreds of people.
I have had the privilege of experiencing the impact of Lisa's work over the past seven years – actually it never looks like work because for Lisa it is a labour of love. Lisa has the unique ability to connect to people by asking them questions and provoking them to think about things they may have never considered before. Her approach is both instinctive and intuitive and right for the person and the time – she knows when to push to get the best out of the individual. I have personally experienced the 'encouragement' and the results. It has truly defined me as a leader. This book beautifully captures the experience she creates for her clients. It is warm, thought-provoking and encourages the reader to be responsible for their own success. As someone who has personally experienced the transformation that is possible when you work with Lisa, it is with respect that I invite you to enjoy Read Me First. I do so knowing what is possible if you step into the process with courage and an open heart. As a leader in corporate Australia who has invested heavily in leaders 'doing deep work on themselves', I often ponder what the world would be like if all leaders made this investment. I truly believe that there is strength in vulnerability, and Lisa's approach will invite you to consider the impact you can have by being your authentic self. Enjoy!
I love Lisa Stephenson's book! She brings her life stories, her experience as a coach and her humour all together in this book. She knows how to encourage and help us to be the best we can be. Lisa knows how to get you past the challenges that happen in life and come out victorious. Lisa has also been a keynote speaker at four of the recent Financial Executive Women (FEW) conferences held across Australia and was continually rated as excellent. She is intuitive and has a way of connecting that really brings the room together. Her ability to tell a story that people can relate to, use her coaching abilities to identify solutions and ask thought-provoking questions is a real strength. I recommend Read Me First to anyone who wants guidance on how to start their next journey, to simply look at things differently and ask the right questions about who they are and where they want to go. A great, easy read that at a minimum will leave you reflective, thoughtful and wanting to consciously create your next chapter.
Lisa Stephenson has been my success coach for the past three years. In that time, I have engaged her to work with my leadership teams in both Asia and America. She has a way of working that is both confronting and supportive, she brings huge energy and passion to every meeting, event and coaching session and keeps it very real. My work with Lisa Stephenson has brought to life the leader I want to be in my career and at home. Lisa is strategic, thoughtful and skilled in her approach. She doesn't let you get away with anything. She sees you for who you really are and who you have the potential to be. She puts her heart and trust in every single person she meets. Read Me First is absolutely a reflection of the journey she has taken me on. I am a better husband, dad, friend and leader because of Lisa.
"I'd like you to regard this book as essential reading before you set out on the next chapter of your life."
In this book I will bring the strategies, thoughts and questions, and YOU need to bring the talent, passion, courage, potential, resilience, attitude and humility. It's all connected: your story, your purpose, your fears, your journey. Where you have been and where you want to go are linked. This book is about acknowledging what you really want in your next chapter, making the best decisions you can, creating a great plan, and taking decisive action.
Before you get started, make sure you muster a little patience. When you are doing the work, creating the change, it can take a while to realise you've made the right choices. There are no quick fixes, but there is a new adventure waiting. There will be setbacks and some quick wins, just keep going. I am yet to meet anyone who is really an overnight success.
Get your big boy/girl pants on, because things are about to get interesting!
CAUTION
This book alone will NOT change your life, but YOU can.
Whether you succeed or fail in life is up to you.
So, take responsibility for you, and be ready to take action. (Just don't make big decisions after wine consumption.)
This book is about coaching yourself to success, whatever success means for you.
In the book you will find: